Addison Director of Dining and wine enthusiast, Steve Monti, shares some of his wine knowledge, and his favorite picks for the holiday season!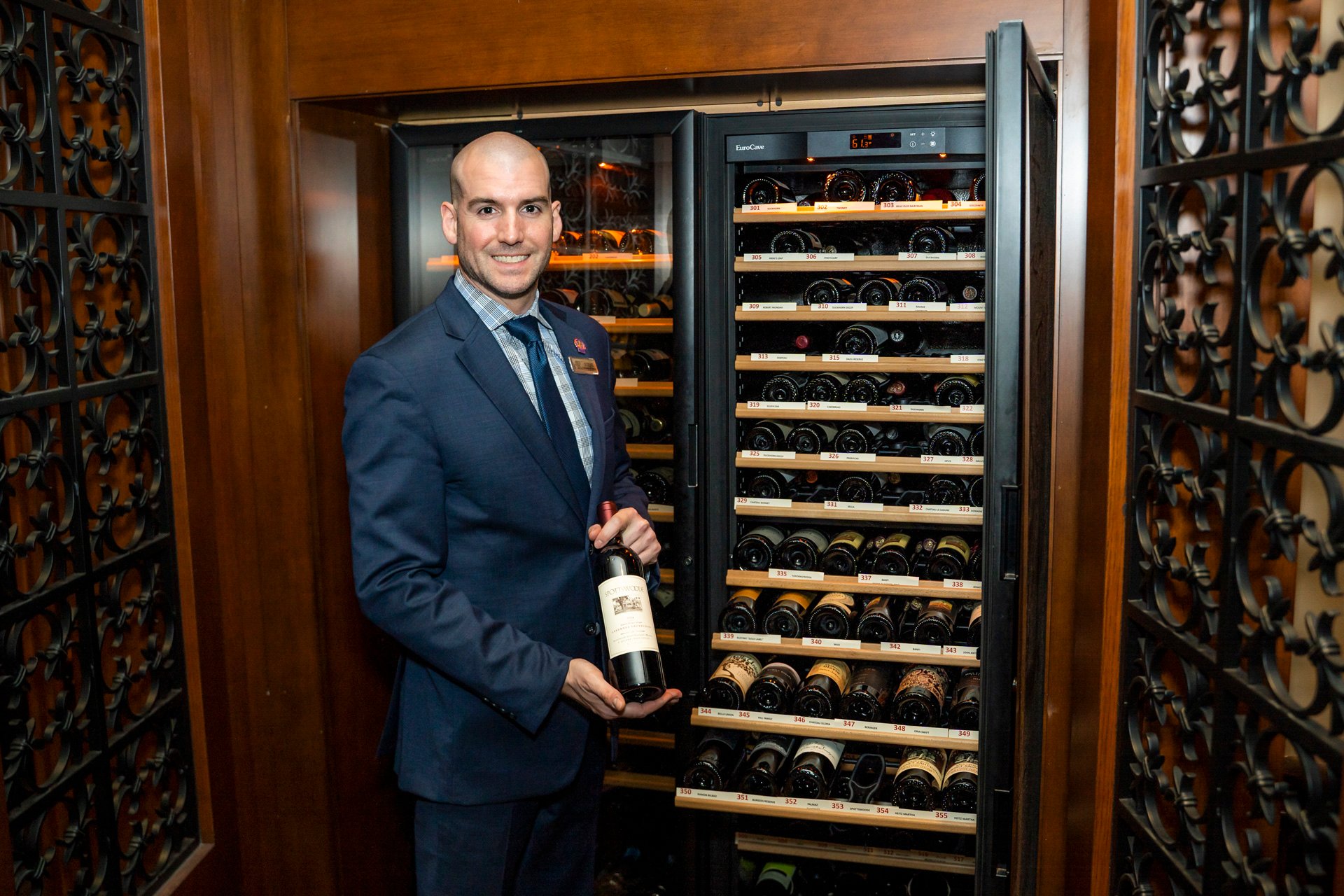 Most people are aware that we have a wide selection of wines available, but how many different wines do we actually offer?
Steve: We've got close to 300 different bottles. They all have different flavor profiles. and are each hand selected with our membership in mind.
Where do we source our wines from?
Steve: We bring in mostly California wines, because we're in the States. It's easier to ship here. California is such a big area that you get a lot of different varietals of wine from just that one area. However we have wines from all over the world, French, Italian, Australian wines. I have been looking to bring in a lot of different areas. Croatia, is actually really starting to come into its own for wine. So you know we're currently tasting some things from Croatia and other lesser-known European wine regions. Southern hemisphere wines are unbelievable growing areas as well. Argentina, Chile. So there's a lot of different things out there that a lot of people don't know about, that if they just gave it an opportunity, they would learn to like a lot of it.
Here are Steve's Top 5 wine picks, and why he recommends them, either as gifts, or to enjoy during dinner at the club.

Steve, what are your Top wines right now, and why?

There's a lot. I mean, I'm definitely a red wine guy. If I had to pick out my top 5, I'd start with:

#1 - Spottswoode Cabernet Sauvignon, from Napa Valley, CA.
The flavor profile is definitely me, I like a lot of minerality in my wine. So, if a wine is from a region like Napa Valley, you have the valley floor and you've got the mountain AVA's.
What is an AVA?
It stands for American Viticultural Area. Basically, it's a designated wine grape-growing region in the United States. So, the Napa Valley is California's best-known winemaking region, and wine from there is some of the world's most celebrated.

And so, within that area of land, they have smaller areas of land called sub-AVAs, or appellations. Now, each AVA is different from the other regions, and based on what AVA the grape is grown in, you get a different flavor profile and distinguished characteristics.
In the mountain AVA's, the soil is like, that real deep, dark, clay, mineral-rich type of soil - and you get a certain flavor profile from the grapes when you have that. The sun is constantly going over the mountain, and if the grapes are grown on the side of the mountain where they are a little more shaded, it gives it a different flavor profile.

The valley floor is flat, so the sun hits it the same all the time. It's in the sun longer and that kind of soil is also a little bit different, and so these factors create a different profile.
So you can have two different areas that are really close to each other, but because one is valley floor and one's on the mountain, they can be within a mile of each other but they're going to taste completely different. I prefer wines made from grapes grown in the Mountain AVA's, as opposed to on the valley floor.
So, Spotteswoode Estate, they grow their grapes closer to the coast, on the foothills of the Mayacamas, between Mount Veeder and Spring Mountain. Their Cab is one of my favorites I would say.
What does that pair well with?
You're gonna want something that's going to hold up to that kind of flavor. So any red meat, anything with beef. We've got a Cowboy Prime Ribeye Steak in the dining room in Taste, that would just be a killer pairing with that wine. You know, just because you've got that fattiness and meatiness of the ribeye, which pairs well with that kind of robust, real minerality of that wine. That's my go to. I mean my mouth is just salivating right now because of it. [laughs] So that's number one. That's 100% my favorite wine and is scored really high. The vintage that we have scored 99 on the Parker scale. [Robert Parker Wine Advocate].

Every wine that we have on our Cellar selections list is highly rated. It's 95 points or above.


Okay, so number two?
So I would have to say, for number two — we'll go into the blends a little bit; Quintessa.

#2: Quintessa 2015. And the cool thing about that is it's a blend, so you get a little bit of this a little bit of that. That's when wine-making really gets scientific, because you've got five different grapes, in that you have to find which grape grew best in this vintage. And then you have to carefully blend it with all the other five to get that one flavor profile that's just perfect. The wine makers at Quintessa do it, and they do it perfectly. And they have been doing it every single vintage, for years. The Bordeaux blends are Cabernet Sauvignon, Merlot, Cabernet Franc, Malbec and Petit Verdot. Blending Cabernet Sauvignon with the other 4 is what makes it a true Bordeaux blend.
Again, this is another more robust wine. It's going to be, not heavy - but really kind of full bodied. It will pairs well with Pork chops, Short Rib… Filet, any kind of beef or red meat. If somebody doesn't like red meat or is trying to stay away from red meat, then you can pair it with thick vegetarian stews, or tomato-heavy chicken dishes, or something a little smoky would be good.
There's one Pinot Noir on our list that is amazing. It's called Sea Smoke.
Okay, would you say that is number three?

#3: Sea Smoke Pinot Noir
Yes, Sea smoke is from an area called Santa Rita Hills. It's on the central coast of California, and when you get a little bit more coastal, the growing regions are more conducive to Pinot Noir and Chardonnay. This specific area does really well with Pinot Noir. There's a few California Pinot Noirs that are way above all the others, for example Kosta Browne is one of them, but Sea smoke is definitely on the level of the highest quality Pinot Noirs that you can find in California. And again, it scored very high. The vintage that we have scored 95.
So that would be number three. It's more of a well rounded wine, so you can pair it with so many things… Something like lasagna, or any nice red sauce pasta will be amazing. It also goes excellent with Duck, or any other dark meat poultry.
Let's move on to whites. What's your favorite white wine?

Pahlmeyer Chardonnay. There are small areas that you can find unbelievable Chardonnay grapes. One of them is Carneros, which is in Napa, but it's kind of on the south-west corner of Napa. So again closer to the coast, a little bit cooler air is real conducive for those awesome Chardonnay grapes. Anybody who knows Chardonnay, or California Chards, they know Pahlmeyer.
What makes a good Chardonnay grape?
A number of factors, from the soil type, to the climate, the growing process and the harvesting and wine-making process. They hand sort all the grapes, they also age in mostly brand new French oak barrels. About 80% of their barrels are new each vintage, which is expensive, and you get those really oaky flavors when you're talking about new French oak, every single vintage.
So that's my number 1 white wine on our list.
Pairing?
Most fish. Last night we served a parmesan crusted grouper that would have gone really awesome with it. A nice full-bodied, oaky Chardonnay is going to go awesome with full-flavored fish, such as Chilean Sea Bass, grilled Salmon, something like that.
Any other favorite white wines that we sell?
Livio Felluga Pinot Grigio. It's awesome and that one is not super expensive. We actually offer it by the glass but it's one of those wines that's really well rounded. It goes with a lot of different dishes. And that's a lot of the time what people are looking for, just a simple, affordable well-rounded white wine to go with their dinner. It can go with linguini and clams, and with lighter fish. One of our Member favorites is Branzino, and anytime they're looking for a wine with Branzino I always mentioned Livio Felluga, because, like I said, it's super crisp, refreshing, it's easy-drinking and it's got a lot of characteristics that go really well with that specific fish. It doesn't make a difference in preparation, the chef can prepare it in any number of ways and the wine can hold up to whatever it is that they prepared.
The first four I mentioned we only sell by the bottle. The last one Livio Felluga, we sell by the glass.
What about favorite reds by the glass?

Again, I'm a big fan of the mountain AVAs. One of my favorites is Howell Mountain, which is considered one of the sub-AVAs in Napa Valley. Howell mountain happens to be one of my favorite places to get wine. When we were constructing the wine menu, a lot of people that know wine and like good reds, they know the Howell Mountain AVA. So we brought in the...


Burgess Cabernet Sauvignon on the wines-by-the-glass list, to kind of give them an upscale, yet still affordable option from a very good area. So that would be Burgess. And the Winery, it's got a cool story to it. It's a family owned and operated, one of the first one of the first Howell Mountain wineries that were out, back in the 70s and whatnot, it's got a real small production. So that would be my favorite red wine by the glass to recommend to people who are have a steak, or those who want a full bodied glass of wine.
Let's talk about rules. For example, traditionally the recommendations are red goes with meat and white goes with fish, but how strictly should one follow these rules?
They used to be strict. That kind of mindset used to be common in the wine world. You couldn't deviate from it. But wine is super personal. What I like, you may not necessarily like, or you have different preferences. These days it's way more flexible, you can have a nice, lighter red like a Pinot Noir with fish, and no one is going to judge you.
What would you recommend to people to develop their palate or to figure out what they like?
The only way that they're going to develop their palate and the only way that they're going to expand on what they already know, is by tasting. It's the only way. It's literally the only way and I would recommend people go to the wine regions. Take a vacation, go to the Napa valley, go into the wineries, listen to the people who are running the wine rooms and see if you can get a tour with a winemaker or something like that. I've been to Napa Valley a bunch of times, and that's how I learned everything that I know about wine. It's just by going, and by reading up and listening to these people, and then tasting too. Again, we've got such a huge list of wines here, that they could develop their palate just by trying out different wines right here at the club.